SHELTER RESOURCES, INC.
2223 112th Avenue NE, Suite 102
Bellevue, WA 98004
Main Office: (425) 455-8546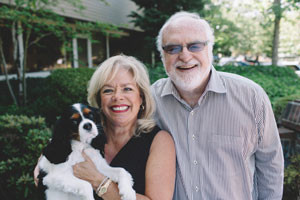 As co-owners of SRI, Len & Annette wish to thank their staff, past and present, for SRI's success in a challenging and ever changing business. They are pictured here with perhaps their key decision maker, Dylan, who daily roams the office to make sure tasks are being completed and that he gets sufficient treats and entertainment. For 35 years we have enjoyed the challenge of affordable housing development and the chance to be a small part of providing housing solutions to PNW communities with continuing need.